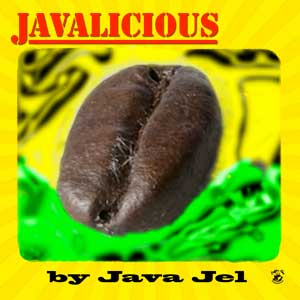 Lyrics and music by Java Jel. Kol Marshall co-wrote lyrics on NY Times. Jennifer May co-wrote lyrics on Butterfly. McMansion lyrics co-written by Stephen and Laura Petricone. Butterfly string arrangement by Bob Plotkin and Kol Marshall.
Recorded in 2009 at Leopard Studio, Stone Ridge, N.Y. and Doppler Effect Studio, Cragsmoor, N.Y. McMansion basic tracks recorded at Kanduco.
Produced and mixed by Kol Marshall
Musicians:
Java Jel: guitar, keyboards, vocals
Kol Marshall: keyboards, bass
Bob Plotkin: violin
Larry Lubkert: drums
Mike Hamel: bass
Nick Kane: Backup vocals on Medly
Jonah Gelsi: Vocals on Squirrel
And for your listening pleasure…
---
Medly
---
NY Times
---
Sunsong
---
Tune In
---
Butterfly
---
Bad Watch
---
Squirrel
---
Fear
---
USA Flag
---
McMansion
---
Like the Sea
---
Secret Agent Jam
Thanks to Jennifer, Maya, Zoe and Jonah for support and comfort; Teresa, Stanley, Joanne and Fusco for babysitting and of course, mom.
Javalicious means delicious Java Jel music, caffeinated pop, courtesy of Coffeetime Ltd.