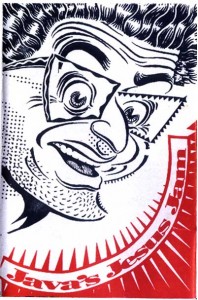 Wary of recording at first, I warmed up to it with producer Kol Marshall, who captured my vibe with the 1988 live solo studio recording, JAVA'S JESUS JAM. A collection of short street tunes with a couple of holiday ditties thrown in, the effort drew air play on Boston's WFNX-FM radio. Many tunes from this recording, such as "Upper Middle Class White Boy," and "I Wanna be an Existentialist," were made and re-released later. The original "Kerouac Shack" recording, written at 3 a.m. in the Boston bureau of the Associated Press, is featured on FLAVORS.
Original solo rock by Java Jel
Credits: Java Jel on voice and guitar, Kol Marshall producer. Recorded in 1988 in NYC. All songs by JAva Jel except Silent Night, Little Drummer Boy and Auld Lang Syne. Lyrics to Procrastinator's Blues by Jeff Smith. Lyrics to Existentialst by Java Jel and Adam Sweeting.
---
Silent Night/Kerouac Shack medly
---
Start Something New
---
Upper Middle Class White Boy
---
Little Drummer Boy
---
Auld Lang Syne
---
Melonie
---
Existentialist
---
Just Drive