Jen and I made a special birthday trip this past spring to Nashville, where we sampled the local BBQ, checked out the amazing Honky Tonk bar bands and toured the storied Ryman Audiorium, original home of the Grand 'Ole Opry as well as Johnny Cash's TV show in the 1960s and early 70s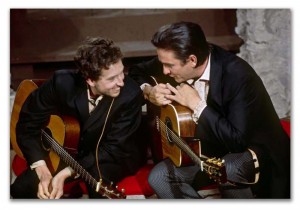 Well, as part of the tour of the Ryman, you can get your picture taken on stage for $10 and you can record a song for $15.  Well, I had written two songs so we splurged and spent $30 for two. They had a little broadcast booth in the auditorium, where most people did karaoke versions of "I Shall Survive" or "America the Beautiful."
Some tunes from a Saturday March 10, 2012 session at Ryman Make a Record at the Grand Old Opry. Thanks Jen!!
Fire Water
---
Back to New York
---
And a recent bonus track…
Can't Judge a Book by its Cover
First the picture..

They had a nice guitar on stage, so I warmed up my song, FIRE WATER, while they snapped my picture. I only did one verse and one chorus, but it felt right. I could hear my voice bouncing back to me from the back of the room — with no microphone — and I felt a hint of the great vibes in that famous space.
So into the recording booth we went, and 15 minutes later I recorded two songs, FIRE WATER and BACK TO NY on a Martin guitar and nothing else. They're featured on JAVAJEL.com along with a tune I recorded with Joe Kelly and Tom Hannon way back in the 1990s. It's a version of Bo Diddley's CAN'T JUDGE A BOOK and TIGER MAN, which Elvis Presley made famous. Time for some countryfied JEL.
I'd definitely recommend a trip to Nashville, especially the Country Music Hall of Fame. We really enjoyed seeing Elvis Presley's car as well as the famous flashy outfit worn by Graham Parsons of the Byrds and the Flying Burrito Brothers.
Thanks again Jen!
And thanks again to BOB for updating the Web site.
Rock on!