Hey there's actually talk out there that my very first band I played in, in high school, may be getting back together for a reunion show. We're all still alive and kicking, thank goodness.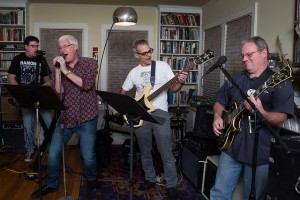 The band Altercation delivered my first glimpse into the anything-can-happen world of gigging. Playing that middle school dance, driving the teenagers wild and rocking out to Takin Care of Business by BTO electrified my small-town world as I whomped away with sweaty hands on my bass. I really hope we can pull it off between our hectic schedules and geographic distances. Nothing would make me happier than to once again butcher 25 or 6 to 4 by Chicago or flawlessy execute incredibly easy songs like Best Friends Girl by the Cars. During our brief reign in high school, we played one dance and then blew out the fuse box at my friend Mark's house at a party. He later told me they lost several hundred dollars worth of meat after we caused their freezer to die. Another band favorite is the time my old EARTH guitar amplifier caught fire during a rehearsal as we were playing EVIL WAYs by Santana. RIP Earth AMP.
Anyway, I'll keep you all updated.